Back to Events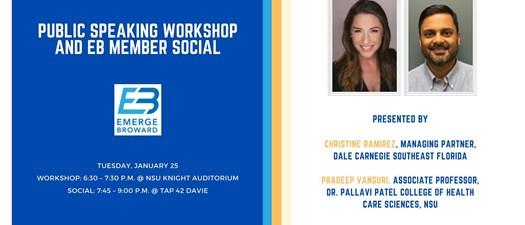 Public Speaking Workshop and EB Member Social
Tuesday, January 25, 2022
Workshop location: Nova Southeastern University Carl Desantis Building / Knight Auditorium 6 SW 75th Ave, Davie, FL 33314 Social location: Tap 42 Davie 2266 S University Dr, Davie, FL 33317
Event Details
Date: Tuesday, January 25, 2022
Time: 6:30 p.m.
Workshop: 6:30 p.m. – 7:30 p.m.
Social: 7:45 p.m. – 9:00 p.m.
Workshop location:
Nova Southeastern University
Carl Desantis Building / Knight Auditorium
6 SW 75th Ave, Davie, FL 33314
Social location:
Tap 42 Davie
2266 S University Dr, Davie, FL 33317
Directions & Parking:
The auditorium is on the north side of the campus as you enter from the north entrance
Attending members will be able to park in the provided university parking lots
A map of campus can be found HERE.
Event Description:
Join us for this interactive workshop focused on improving your public speaking abilities! Learn to speak with impact and influence change.
We will hear from our guest speakers, Christine Ramirez (Managing Partner, Dale Carnegie Southeast Florida) and Pradeep Vanguri (Associate Professor, Dr. Pallavi Patel College of Health Care Sciences, Nova Southeastern University), who will share public speaking strategies and best practices. Then, participants will take part in an activity to practice what they learned and identify points of possible improvement.
After the workshop, participants are invited to a social at Tap42, where we will receive happy hour menu and pricing for the duration of our gathering.
The workshop is limited to 40 participants. This event is for EB members only.
If you are not able to attend the workshop but would like to join our social, please RSVP using the "social only" option on the registration form.
Presenter Bios:
Christine Ramirez
Managing Partner, Dale Carnegie Southeast Florida
Native South Floridian
14 years with Dale Carnegie Southeast Florida
Currently on the International Dale Carnegie Franchisee Board representing North America
Involved with Global Dale Carnegie initiatives around rebranding, the Global Day of Giving, Trainer Quality
Certified and Accredited facilitator and public speaker focused on leadership, sales, fundraising, Executive alignment, and personal brand
Pradeep R. Vanguri, PhD, LAT, ATC
Associate Professor, Dr. Pallavi Patel College of Health Care Sciences, Nova Southeastern University
Education:
Bachelor of Science Degree from East Carolina University (Greenville, NC) in Exercise Science
Master of Science Degree in Education from North Carolina State University (Raleigh, NC).
Doctor of Philosophy Degree in Department of Instructional Leadership at The University of Alabama (Tuscaloosa, AL)
Certifications
Certified Athletic Trainer
Titleist Performance Institute Medical Level 2
Functional Movement Screening Level 1
Graston Trained Specialist
Areas of Research:
Golf Injury Prevention
Pedagogy and Learning Styles
Instructional Technology
Leadership
For More Information: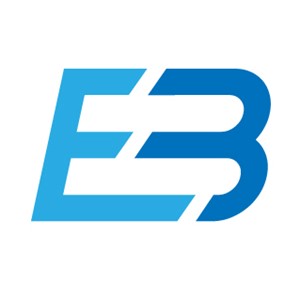 EB Program Director