Back to Events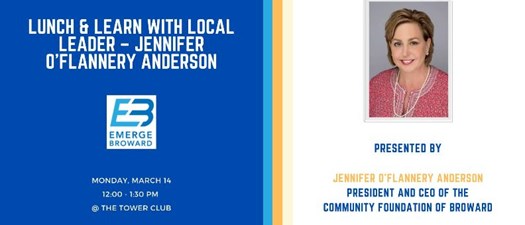 LUNCH & LEARN WITH LOCAL LEADER – JENNIFER O'FLANNERY ANDERSON
Monday, March 14, 2022
Event Details
Chat with local leader, Jennifer O'Flannery Anderson, at a Lunch & Learn with Emerge Broward on Monday, March 14 at the Tower Club, 12PM – 1:30PM. Throughout her career, Jennifer has held leadership positions across Broward County that engage and advance the local community. Jennifer is currently the President and CEO of the Community Foundation of Broward.
Emerge Broward members will engage with Jennifer about her professional path to leadership while enjoying a delicious lunch. Through her stories, successes, and lessons, we will gain insight into our own leadership paths to become stronger community leaders.
Lunch will be provided. Choose between two options for lunch entree – Chicken Caprese or Stir Fry Spaghetti Squash.
Self-parking is available in the garage at the rate of $3 (must get ticket validated at event). Street parking is also availalbe nearby.
Professional attire requested.
The cost for the event is $15. This event is open to Emerge Broward members only.
About Jennifer O'Flannery Anderson
Jennifer O'Flannery Anderson, Ph.D. began as President and CEO of the Community Foundation of Broward (CFB) in August 2020. As the voice of philanthropy in Broward County, the CFB connects donors who care with issues that matter. The Foundation is thirty-seven years old and one of the top 100 foundations in the USA with an endowment of $300M.
Before joining the CFB she served as Vice President of Advancement and Community Relations at Nova Southeastern University (NSU)where she helped raise the profile of NSU, grew support for the university, and engaged with the institution's constituents. Before NSU, she worked at Florida Atlantic University (FAU) as VP for Community Engagement and Executive Director of the FAU Foundation. Previously, she was President/CEO of the United Way of Broward County.
Jennifer is past President of the Forum Club of the Palm Beaches and past Chair of the Greater Fort Lauderdale Alliance. She was appointed by Florida Governor Ron DeSantis to serve on the Executive Committee of CareerSource Florida board and currently serves on the board of Funding Arts Broward, and the Greater Fort Lauderdale Alliance. Jennifer is a graduate of both Leadership Florida and Leadership Broward.
She holds a bachelor's degree from Florida State University; a master's degree from the University of South Florida; and a Doctor of Philosophy in Public Administration from FAU as well as completed two executive education programs at Harvard University.
In 2021 Jennifer received History Fort Lauderdale's Trailblazer award. She received Association of Fundraising Professionals Broward's 2016 Outstanding Fundraising Professional award and the 2017 ATHENA Leadership Award, which honors an individual for professional excellence, community service, and mentorship.
She has called Fort Lauderdale home for more than 22 years and lives here with her husband, Peter, and their two rescue dogs, Annie and Pearl.
About the Community Foundation of Broward County
The Community Foundation of Broward, founded in 1984, helps individuals, families and businesses create personalized charitable Funds that support game-changing philanthropy. As a grantmaking public charity, we provide leadership to find solutions to issues that matter most to Broward County residents. Through endowment we build permanent philanthropic resources to tackle Broward's challenges today and forever.
For More Information: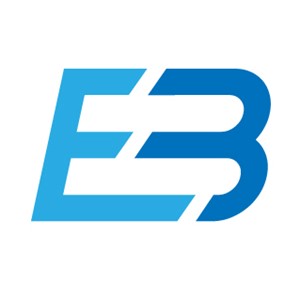 EB Program Director