Back to Events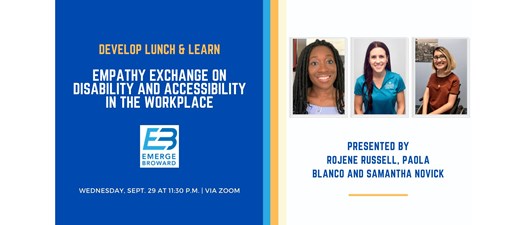 Empathy Exchange on Disability and Accessibility in the Workplace
Virtual Lunch and Learn Discussion
Wednesday, September 29, 2021
11:30 AM - 12:30 PM (EDT)
Virtual event via Zoom - link will be provided upon registration
Event Details
Join the Emerge Broward Develop Committee in a compassionate leadership discussion focusing on a deeper understanding about disability and accessibility. We will connect with local disability rights leaders and advocates, Samantha Novick, Rogene Russell and Paola Blanco, to listen and learn more about how we as emerging community leaders can lead with empathy.
Rojene Russell
Rojene was diagnosed with Cerebral Palsy as an infant with a negative prognosis that she would not walk or talk. She was raised to believe that she can do anything as long as she gives it her best effort. Her early school years patterned that belief also, and she was included in most activities as her peers and not treated differently.
As she got older, Rojene was made to feel different from her peers when she was excluded from groups. That's when she decided that she is not going to let her disability or anyone else define who she is.
Today, Rojene is a graphic designer and currently volunteering for Jobs for Humanity. She also works as an intern with a great company that advocates for people with disabilities. Additionally, Rojene is a camper and ambassador for Camp Wings of Friendship.
Paola Blanco
Paola Blanco is a 32 year old wheelchair user with cerebral palsy. Professionally Paola is a freelance social media manager and small business site designer. She is also a board member with The Friendship Journey, a nonprofit organization dedicated to providing children, teens and young adults of all abilities with the opportunity to participate in inclusive activities and make friends.
Paola is the creative behind the How Accessible blog. She hunts down accessibility resources and plans, writes, and films posts to show ways to make things easier for people with different mobility needs. Before taking on her role at How Accessible as her passion project, she managed content for sites in the tech and health industry. She's been known to travel internationally on a whim, craft budget friendly cosplay costumes, and kick butt at obscure tabletop games.
Samantha Novick
Samantha Novick is passionate about amplifying the voices of others. She pursues this through her work as a speech-language pathologist, owner of her private practice Bridge Therapy, and President of The Friendship Journey, a charitable organization that cultivates equitable friendships and experiences amongst people of all abilities.
Samantha grew up in Parkland, Florida. After a violent mass shooting devastated her community, her passion for activism, social justice and philanthropy grew. Samantha is committed to honoring those who lost their lives to hatred through acts of love and kindness in their memories. In 2020, The Friendship Journey partnered with Dylan's Wings of Change of the Sandy Hook community to create a free virtual summer camp for teens and adults with disabilities and a variety of communication needs through the Covid-19 crisis, continuing their ongoing programming with Virtual Hangouts year-round. They just completed their second summer of Camp Wings of Friendship with over 80 registered campers from nine different states. In her free time, Samantha enjoys exploring nature, reading and spending time with family.
For More Information: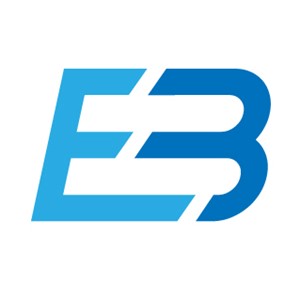 EB Program Director