Back to Events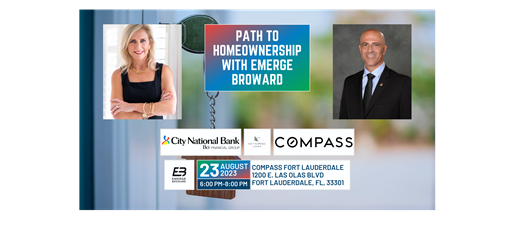 Path to Homeownership - Steps to Buying Your First Home
Wednesday, August 23, 2023
Event Details
Join Emerge Broward for our next Develop event: Path to Homeownership - Steps to Buying Your First Home.
Date: Wednesday, August 23, 2023
Time: 6:00 p.m. - 8:00 p.m.
Location: Compass Fort Lauderdale
1200 E. Las Olas Boulevard, Suite #103 Fort Lauderdale, FL 33301
Parking: Private parking in building with Pay By Phone or street parking
Description:
Real Estate Advisor, Liz Caldwell, with Compass and Home Mortgage Consultant, Rich Campanella, with City National Bank will share their expertise on the steps to buying your first, or next property in South Florida. Attendance is limited and available to Emerge Broward members, only.

Speaker Bios:
Liz Caldwell, Real Estate Advisor
Over the course of a multi-decade career that has generated more than $1 billion in sales, Liz Caldwell has amply earned her reputation as a top-tier real estate professional, leading voice in the industry for South Florida. Formerly with Coldwell Banker Residential Real Estate, Liz was the top sales agent in the Weston office for four years, was named a member of the Presidential Advisory Council, was honored with Coldwell Banker's Premier status . During her tenure with Esslinger, Wooten Maxwell, a foremost Christie's International Real Estate affiliate, Liz was acknowledged as the top Broward County agent for 10 consecutive years, claimed her as #2 the company for 2008. Starting in 2014, Liz received annual recognition as a Christie's International Real Estate Luxury Specialist. She was recruited in 2015 Premier Estate Properties, a Christie's International affiliate that only sells properties with values exceeding $1 million. Liz is also a founding member of the Master Brokers Forum, serving on the Advisory Board as Membership Chair, since 2010 has hosted a local ABC 10 real estate news show about the South Florida market.
Liz is proud be a 4th-generation Floridian benefitted from exposure the world of high-end real estate from a young age alongside her mother, who was also a successful real estate professional. This heritage formed the foundation on which she has built her own eminently successful practice. Her specialties areas of focus include residential real estate sales in Fort Lauderdale, Las Olas, Rio Vista, Coral Ridge, Weston, Davie, other Broward communities. With integrity, discretion, a commitment excellence always, unsurpassed knowledge, Liz supports clients through a variety of skilled techniques, including in-depth analytics, leveraging extensive connections provide insider information about pre-market listings.
Rich Campanella, Vice President, City National Bank
Rich Campanella is an industry leading producer with over 35 years of experience. He has successfully navigated through mergers and acquisitions over his tenure with increased results year over year. He has established himself within the Realtor and Lending community as an expert in Residential Home Financing and the "go to" professional regardless of
loan amount. Rich is a board member of the Master Brokers Forum for over 15 years and continues to contribute to the Realtor community with the same passion he has for his buyers. He has an amazing support team that is also tenured who operate seamlessly for a smooth transaction on every occasion. Together with his team, Rich will assist your buyer with integrity and work tirelessly to bring your deal to closing.
For More Information: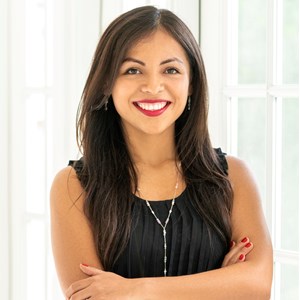 Karla Ziegelbaum