Back to Events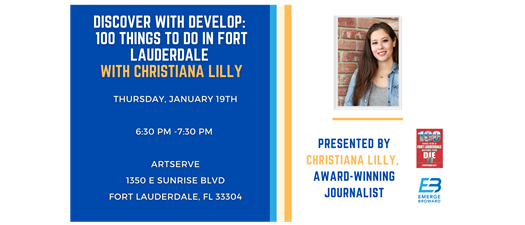 Discover with Develop: 100 Things to Do in Fort Lauderdale
Presented by: Christiana Lilly
Thursday, January 19, 2023
Event Details
On Jan. 19, 2023, Christiana Lilly will speak to Emerge Broward members on her process creating and publishing this book, while sharing highlights of locations and experiences featured.

As a seasoned journalist and regular contributor to the Greater Fort Lauderdale Convention & Visitors Bureau, in her book 100 Things to do in Fort Lauderdale Before You Die, author Christiana Lilly leads readers through the city's historic landmarks, dining gems, quirky shops, and culture scene that makes the city so special.

Discover with Develop: 100 Things to do in Fort Lauderdale with Christiana Lilly
Date: January 19, 2023
Time: 6:30 p.m. - 7:30 p.m. (please plan to arrive at 6:00 p.m. for open networking)
Location: ArtServe Gallery
1350 E Sunrise Blvd, Fort Lauderdale, FL 33304
*Free parking is available on site.
This event is free for Emerge Broward members but you must register in advance. This event is not open to the public.
Speaker's Bio:
Christiana Lilly is an award-winning journalist whose work ranges from lifestyle and community reporting to hard-hitting investigating pieces. She has been recognized by the Society of Professional Journalists Florida chapter, Florida Press Club, and the Florida Magazine Association. The daughter of a foreign service officer, she was born in the Florida Panhandle but was raised all over Asia. She returned to the US to study journalism at the University of Florida. Today, she lives in Pompano Beach with her husband and their pup. Keep up with more happenings in Fort Lauderdale by following @100thingsftl on Instagram and Facebook -- there's always something new happening here!
For More Information: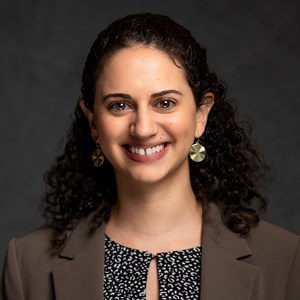 Michele Fernandez