Back to Events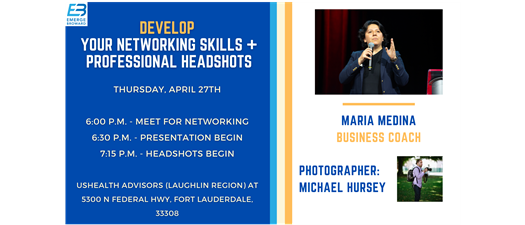 Develop Your Networking Skills + Professional Headshots
Thursday, April 27, 2023
Event Details
Develop Your Networking Skills + Professional Headshots

Overview: Hone your networking skills with an experienced business coach, Maria Medina! Maria will share time-tested tools and techniques to more effectively build relationships when networking in professional and personal settings.

Following the presentation and demonstration, limited space is available for attendees to take a headshot with a professional photographer for $20. Please select this option during registration if you are interested in taking a headshot.
Date: Thursday, April 27
Time:
6:00 p.m. - Meet for Networking
6:30 p.m. - Presentation begin
7:15 p.m. - Headshots begin
Venue:
Address: USHEALTH Advisors (Laughlin Region) at 5300 N Federal Hwy, Fort Lauderdale, 33308
Speaker Bio:
Originally from Colombia, Maria has lived in Egypt, Spain, the UK and South Florida. Maria trained to play professional soccer from the age of 5, but after a career ending soccer injury in 2006, Maria had to reevaluate her life. Inspired by her father's business success, Maria pursued a career in Business Management and Marketing. Reaching the peak of her corporate career with a private University in London at the age of 24, Maria and her wife decided to fulfill their lifetime dreams of moving to Florida by purchasing a local Minuteman Press in 2014.
As soon as she moved to South Florida, Maria was interested in getting involved with local businesses and the local community. In the process of growing her business, Maria got involved with a number of local networking and charitable organizations. Having developed a set of tools and techniques over the last 15 years through her career in Marketing and owning her own business, Maria has developed a program from other business owners and professionals to take their goals and skills to the next level. (Maria Medina The Coaching Network - Maria Medina Site)
For More Information: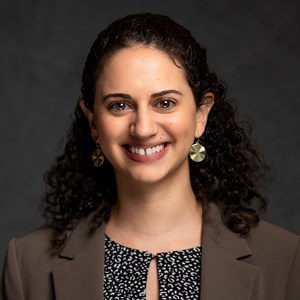 Michele Fernandez