Back to Events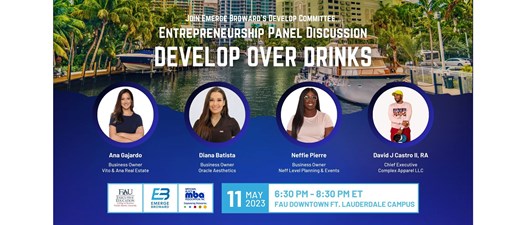 Develop over Drinks: Entrepreneurship Panel Discussion
Thursday, May 11, 2023
Event Details
Develop over Drinks: Entrepreneurship Panel Discussion
Date: Thursday, May 11, 2023
Time: 6:30 PM – 8:30 PM
Location: FAU Downtown Fort Lauderdale Campus
111 E Las Olas Blvd, Fort Lauderdale, FL 33301
Parking: There is metered street parking in the area, as well as a city parking garage located nearby.
Do you have side hustle you've considered taking full time? Is there that one crazy business idea that you can't stop thinking about? Interested in the life of an entrepreneur? Join Emerge Broward's Develop Committee and FAU's ExecEd Program on Thursday, May 11 to hear a conversation among four local entrepreneurs. These talented leaders will share their stories of building business, overcoming obstacles, celebrating success, and share best practices.
Mix and mingle prior to the event. There will be light food and beverage provided by FAU's ExecEd Program.
Our three speakers come from across Broward County with a wide range of expertise and experience:
Diana Batista: Diana Batista is a highly skilled and experienced medical assistant with over 18 years of experience in the healthcare industry. Her passion for helping others and her dedication to patient care led her to become a sought-after esthetician in the field of non-surgical cosmetic treatments. After years of working in medical offices and clinics, Diana decided to take her expertise and experience to the next level by starting her own business in medical aesthetics.
With her experience and dedication to continuing education in the field, Diana has built a thriving business that continues to grow after just one year of being in business. She is passionate about helping her clients achieve their aesthetic goals and is committed to providing the highest quality of care in a safe and welcoming environment while continuing her ventures as an entrepreneur.
https://www.theoracleaesthetics.com/
David J Castro II, RA a.k.a Castro, is the founder and CEO of Complex Apparel LLC, an apparel conglomerate based in South Florida focused on translating authentic street culture into elevated products. The brands under this umbrella include DungeonForward, Delilah Johnson, BlanqFace & Zero Hue. Castro serves as the President & Design Director of the brand Dungeon Forward, a storytelling and innovative head-wear brand striving to create crowns for the culture while also investing in the community via targeted scholarships including the David Koto Castro Design Charette and Scholarship hosted annually at FAMU School of Architecture and Engineering Technology. Castro was also recently recognized as a Forbes #Next1000 entrepreneur. He is an avid traveler, constant thinker, obsessive researcher, and dreamer. He is inspired by other creatives and believes the art of collaboration is one that must remain a staple in the design community. Castro is also a member of Omega Psi Phi Fraternity Inc and Alpha Rho Chi Professional Architectural Fraternity. Castro holds a Master of Architecture from the University of Miami, and a Bachelor of Science with a concentration in Architecture from Florida A&M University. He is focused on innovation in all that he touches and believes that authenticity, passion, and grind are the primary keys to a fruitful business.
Ana Gajardo: Her entrepreneurship journey transpired after working in the corporate world for 7+ years and decided she wanted to do something on my own. She always had a passion for fitness and indoor cycling, so she decided to create her own brand and open her own Boutique fitness studio. Together with her husband, they built the brand and studio from the ground up. It ran successfully for 5 years. In parallel to the fitness studio, after leaving corporate, Ana and her husband built their Real Estate business, which is now her focus.
Meneftha (Neffie) Pierre: Meneftha Pierre is a South Florida native who earned her Bachelor of Arts in Human Communication from the University of Central Florida in 2015. She also graduated with her Masters of Business Administration in Sport Management from Florida Atlantic University in 2018. Pierre has over seven years of varying experiences at the collegiate, non-profit, and professional level. Most recently, Pierre earned a Project Management Professional Certificate from the PMI. In 2021, she decided to hone in on her expertise and start her own business. Neff Level Planning & Events specializes in Business Development, Event Planning, and Project Management.
For More Information: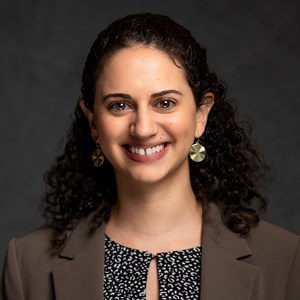 Michele Fernandez