Back to Events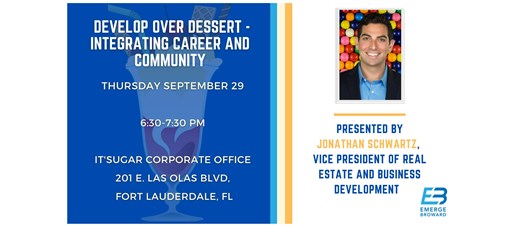 Develop Over Dessert - Integrating Career and Community
Thursday, September 29, 2022
Event Details
Title: Develop over Dessert: Getting Ahead Through Community Engagement
Event Description:
Have you ever wondered how your community engagement can help you in your career? Join Emerge Broward and Jonathan Schwartz to explore how you can grow your professional skills through outreach within our community on Thursday, September 29 at 6:30 PM.
Jonathan is a past program chair of Emerge Broward, current board member, and the VP of Real Estate & Business Development at IT'SUGAR. Jonathan will walk us through his own personal story of community involvement. He will share tips that will help us reconsider how we position our own civic engagement in our career path.
Date & Time: Thursday, September 29 6:30 - 7:30 PM with EB Social following
Location: IT'SUGAR Corporate Office
201 E. Las Olas Blvd, Fort Lauderdale, FL
EB Social Location (after event): TBD
About the Speaker:
Jonathan Schwartz currently serves as Vice President of Real Estate and Business Development at IT'SUGAR, a portfolio company of BBX Capital. Jonathan joined BBX Capital in 2017. In his role, he oversees site selection, leasing, design, construction, facilities maintenance, and real estate finance. His work, is to expand the current portfolio of over 100-retail locations into new markets domestically and internationally. He is responsible for the creation of large concept "Retailtainment" stores that immerse customers into the IT'SUGAR brand.
Previously, Jonathan served as Associate Vice President Operations Planning and Real Estate at Broward College where he led real estate development initiatives for the college including the redevelopment of the downtown Fort Lauderdale center on Las Olas Boulevard. His work, particularly in the one of space utilization, saved the college millions of dollars which was then reinvested into helping students reach academic milestones to graduate into careers.
Jonathan also held several positions within the Corporate Real Estate Services group at AutoNation, Inc. (NYSE: AN). He managed development teams as part of a $450M national real estate campaign and negotiated more than 200 agreements within a property portfolio containing over 4.5M square feet of retail, industrial and office properties nationwide. He also conducted financial analyses on over $500M of capital construction and property acquisition projects.
Jonathan earned a Master of Business Administration from Florida Atlantic University and a bachelor's degree in Finance and Real Estate from the University of Central Florida.
Jonathan serves as Treasurer and member of the board of directors for Emerge Broward. He also serves as Gold Coast Regional Chair for Leadership FLorida and Co-Chair of the Greater Fort Lauderdale Allaince Leadership Influencers committe. He has served on several Leadership Florida committees and is a past Leadership Florida Connect Class graduate and Leadership Broward graduate and board member.
Jonathan is passionate about education and has served as Trustee and Treasurer for Donna Klein Jewish Academy. He also served on the Broward County School Oversight Committee.
He has been recognized as "40 Under 40" by the South Florida Business Journal, Gold Coast Magazine, and "Up & Comer" by South Florida Business and Wealth Magazine. He has also been recognized by Chain Store Age as "10 under 40" Retail Rising Star.
Jonathan is living the dream in Plantation, FL with his incredible wife Jennifer and his two adorable kids, Zoe and Hudson.
For More Information: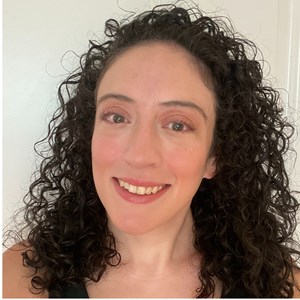 Emily Dmiszewicki