Back to Events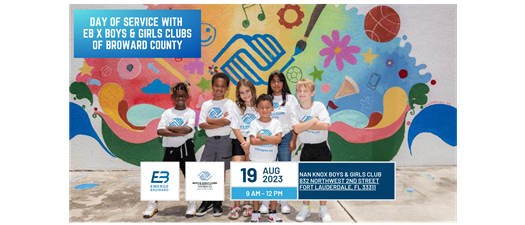 Day of Service with EB x Boys & Girls Clubs of Broward County
Saturday, August 19, 2023
Event Details
Please join EB as we volunteer with the Boys and Girls Clubs of Broward County for a "Back to School Day of Service!" Emerge members will prepare the club for the upcoming school year by assisting with various tasks.
Date: Saturday, August 19, 2023
Time: 9:00 a.m. - 12:00 p.m.
Location: Nan Knox Boys and Girls Club
832 NW 2nd. Street, Fort Lauderdale, FL 33311
This event is open to Emerge Broward members only and there is no cost to participate in the event.
To learn more about the Boys and Girls Clubs of Broward County, please visit https://www.bgcbc.org/
For More Information:
MARIA BARRERA
Director of Digital Marketing & Content Creation
(407)341-7924